GIFT VOUCHERS
A Present to be remembered! - Massage Gift Vouchers for all Occasions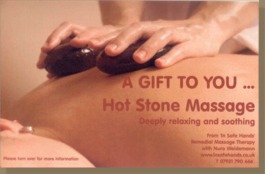 "Whatever the needs are,
whether addressing specific areas of pain or wanting a nourishing and relaxing massage that stretches out the entire body, you will be in safe hands."
Pay Online
To purchase your gift voucher, you can pay online using the button below
The fees for the different types of massages I am offering including reflexology are the same, except for the Hot Stone Massage session.
Usually the client will state when booking the session which type of massage is required.
Which session do you want to pay for?


Please enter your full name, address & mobile phone number and the address to where the vouchers should be posted to.
After receiving notification of your payment I will send out the voucher first class to the address you have specified.